05 Nov 2019
UAE Government Organizations show overwhelming commitment for ISNR Abu Dhabi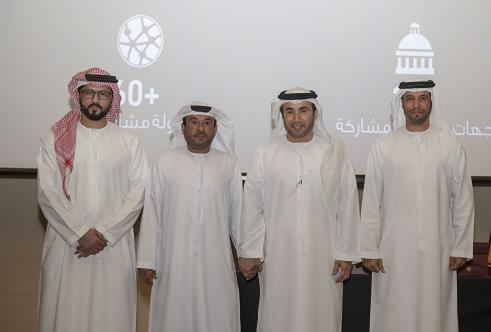 ISNR Abu Dhabi 2020 marks the first time Abu Dhabi Police joins as an official government partner, NCEMA and the GCCPOL joining as official supporting organizations
Abu Dhabi-UAE: 5 November 2019 – The 2020 edition of the International Exhibition for National Security and Resilience (ISNR) Abu Dhabi has now strengthened its position of being the most effective and trusted platform that facilitates people-public-private partnerships within the national and cyber security community. The event will address on both the strategic and business levels how national and cyber security become everyone's responsibility in the region, generating more commitment, engagement and collaboration from key UAE and GCC government officials and leaders during the three-day event.
ISNR Abu Dhabi held a strategic reception bringing together all its key community stakeholders to announce the official support of more than 20 UAE authorities expected to actively engage at the event. Already confirmed and on board for the 2020 edition include: NCEMA, Telecommunications Regulatory Authority, representatives from Abu Dhabi Police that include Col. Khalfan Abdullah Al Mansouri, Deputy Director of the Center for Strategy and Institutional Development, Major Dr. Ali Ghanem, Head of Electronic Club, and more.
The reception commenced with an address made by H.E. Major General Dr. Ahmed Nasser Al Raisi, Chairman of the Higher Committee for Modern Projects and Technologies who outlined the strategic direction of ISNR Abu Dhabi 2020 and provided some key insights of what to expect at the event. He also highlighted the benefits for all those that will produce and participate in the event and demonstrated how this will set a new standard for how excellence will be measured in the national and cyber defense industry now and in the years to come.
"We are extremely delighted to participate in ISNR Abu Dhabi 2020 again, confirming our participation as an Official Government Partner such that ISNR Abu Dhabi will achieve its objectives in enhancing international collaboration and galvanise efforts to serve communities in a fast-paced world where smart technologies and technological innovations are shaping the future" said H.E. Major General Faris Khalaf Al Mazrouei, Commander-in-Chief of Abu Dhabi Police. "ISNR Abu Dhabi is the ideal platform to source new solutions from the international market and also to highlight Abu Dhabi's role as a leader in shaping future of policing, supported by Centennial Vision 2057 of Abu Dhabi Police towards a smart, safe and happy city environment, through full implementation of cutting edge technology and the latest development in robotics and AI (Artificial Intelligence). We look forward to this partnership where we will have the opportunity to support our colleagues in the security and law enforcements sector with the information and technology needed to ensure robust and efficient police operations and services."
"Our vision is to be pioneers in Emergency, Crisis, and Disasters Management and an event such as ISNR Abu Dhabi helps us to navigate our way towards achieving this goal, with new strategic progress in 2019 through the reinforcement of the NCEMA. This visionary and leading regional event will equip the country with the necessary tools and insights needed to be prepared and effectively equipped to anticipate, detect and respond to any form of national security crises. In today's global widespread unrest, events such as these are the right way towards enabling valuable inter-agency collaborations and create unique strategic momentum to build strategic people-private-public partnerships. We are proud to participate at ISNR Abu Dhabi 2020 as a whole entity, engaging authorities responsible for all aspects of national & cyber security." said a representative from NCEMA.
ISNR Abu Dhabi introduced the newly appointed Executive Advisory Board that consists of individuals with exceptional industry expertise and an extensive local network with professionals that have a strong influence on purchasing decisions. The Executive members will include senior officers from the government (MOI, Dubai Police, Abu Dhabi Police, NCEMA and SIRA) as well as committed CEOs from leading companies in the UAE (Al Hamra, Safe City Group) all of whom will participate in the event in 2020.
The Executive Advisory Board will share ideas and develop concrete initiatives to accelerate ISNR Abu Dhabi's transformation to become the region's business and industry insights platform of reference for national & cyber security leaders and innovators.
The 2020 edition of ISNR Abu Dhabi will be the first phase, with preparations and announcements already being made for significant business deals, partnerships and first-of-its kind new innovations, that will benefit everyone in attendance from public and private sector.
"We are extremely proud to see the new developments relating to ISNR Abu Dhabi in 2020," said Brigadier Walid Al Mannaei, Head of the Executive Advisory Board. "Having the UAE's most respected governmental organizations as well as influential and committed individuals on the board will generate more confidence and attention from international media and industry. We are very confident that ISNR Abu Dhabi will prove to be extremely beneficial and very effective for all participants and stakeholders looking to thrive in region."
The momentum gained by ISNR Abu Dhabi has also caught the attention of new regional stakeholders such as the GCCPOL – who will also be actively participating at the event in 2020. This marks the first time an inter-regional security body has supported an event highlighting its importance to the region. Participants will have the opportunity to network with key decision makers in the GCCPOL and gain some exceptional insights into how it plans to preserve and secure national, organizational and personal security.
"With Policing & Law Enforcement highlighted as a main community of the event, we are committed to fully engage with the ambition of growing and supporting the policing sector across the GCC through the Future of Policing Conference and other business and content activities." said Colonel Mubarak Said Al Khyeli, Director General of GCCPol. "With the GCCPOL headquartered in Abu Dhabi, ISNR Abu Dhabi is the perfect platform to strengthen the regional security cooperation among the GCC police forces in the field of combating crime, with the emergence of new threats and new innovations available on the market."
Furthermore, Safe City Group and EIMASS have also confirmed their participation as official partners, re-affirming their full support to the event whilst actively contributing to value initiatives and experience during the three days.
The strategic alliances formed for ISNR Abu Dhabi 2020 will help bring together relevant organizations that operate in the region and across the world. It will provide them with numerous business opportunities to demonstrate how their solutions and services can help reduce the cost associated with security operations, while improving efficiency.
During the reception, the ISNR Abu Dhabi Committee also awarded twenty organizations from public and private sector for their exceptional contribution and continued support towards developing and sustaining the UAE's national security industry.
In addition, participants will be able to share and discuss critical industry insights from conferences that focus on national cyber security, digital resilience and the future of policing, with Artificial Intelligence as a theme across the global program. They will also be able to discover exciting start-ups showcasing AI technologies and solutions, see latest innovations that are exclusively launched in the UAE have the opportunity to visit new international pavilions such as China, USA, India, Saudi Arabia and more.
Co-organized with the UAE Ministry of Interior, ISNR Abu Dhabi brings the national & cyber security community together to accelerate people-public-private partnership for a safer connected world.
ISNR Abu Dhabi will take place from 17 to 19 March 2020 at the Abu Dhabi National Exhibition Centre (ADNEC) in Abu Dhabi UAE.