06 May 2020
How AI and Unmanned Technologies will Keep People Safe in a post-COVID-19 environment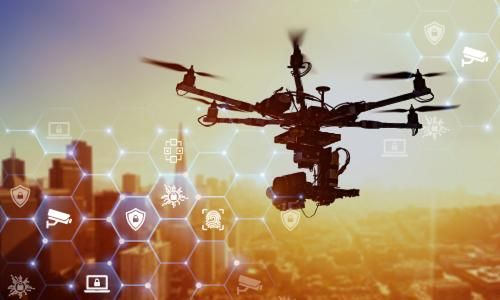 COVID-19 is a global phenomenon that has brought about a variety of unprecedented challenges for governments, organizations, and individuals alike, and unlike anything in recent memory. Government authorities both in the region and across the world have done an incredible job of safeguarding their citizens, residents, and national assets. This new environment will require them to be more vigilant in identifying potential risks and enforcing the law in public safety missions, while at the same time coordinating information and updates with first responders and relevant stakeholders, to ensure safety for all.
Unfortunately, this shift of focus towards a pandemic response could be just the distraction that certain elements require, to further their harmful and destructive agendas.
"While healthcare authorities are battling to save the lives of the victims, law enforcement agencies are being pushed to innovate in order to effectively enforce quarantines," said Irakli Beridze, Head of the Centre for Artificial Intelligence and Robotics, United Nations Interregional Crime and Justice Research Institute (UNICRI). "At the same time, criminals are exploiting the crisis by adapting their modes of operations. Law enforcement agencies need to use this opportunity to transform and innovate so that they are prepared for pandemics or other - related or unrelated - crises in the future."
In the UAE and across the GCC region, there is significant interest among the law enforcement and governing authorities to adopt new and emerging technologies, such as Artificial Intelligence (AI) and unmanned technologies. This is to prepare themselves and to act quickly to enhance security and protect resources, human or otherwise. Incident response can be of varying natures, and while law enforcement gets busy with implementing guidelines related to a pandemic, there also needs to be the mechanism to keep the usual security systems running, to ensure health as well as safety.
A three-phased approach outlined here will give the relevant authorities the ability to capture data in innovative ways, analyse it efficiently, and ultimately uncover actionable intelligence that provides a foundation for the best possible decisions and actions. These phases could cycle through in seconds or in days, depending on the task and volume of the data being analysed, and the severity of the decision or action.
Monitoring & Detection
The first stage focuses on the detection of risks and threats and is the 'data capture' step. To aid in a public health scenario, the region is already equipped with some of the latest technologies to collate data from a wide variety of sensors and sources – CCTV, social media, alarm systems, and many more. Data mapping based on geolocation, heat signature and tracing applications are also becoming more popular in the region, gaining acceptance due to the extraordinary experiences of the past few months. The mapping and spatial analytics software offered by the GIS technolgy leader Esri is an excellent example of being able to generate valuable insights to manage the crisis, maintain continuity of operations, and increase resilience for long-term recovery.
In the UAE, Lt. General H.H. Sheikh Saif Bin Zayed Al Nahyan, UAE's Deputy Prime Minister and Minister of Interior, has unveiled a smart helmet technology that is capable of monitoring people who may be infected with the coronavirus, to be used by mobile police and specialist teams to interact from a safe distance.
Video surveillance systems have become quite sophisticated and can be particularly useful during times of pandemics. Solutions from Ipsotek that uses advanced video analytics or from Quanenergy that uses LiDAR technology combined with artificial intelligence can help monitor if people are abiding by social distancing rules whether they are in retail spaces, airports, factories, and similar. It can also identify and track body temperatures, enabling the relevant authorities to intervene and direct an individual to a hospital.
Companies developing smart unmanned systems such as Azur Drones and Enova Robotics also have developed new COVID-19 applications to help public safety forces enforce quarantine measures by monitoring wide or complex environments. They will also assist in collating, and sending vital data across various parameters in real-time. These can also be used as communications devices, for the relevant authorities to make public address announcements and deliver targeted messages to that location.
Accelerated Analysis
Once the data is captured from a variety of sources, it needs to be analyzed. Given the volume of meta data collated through multiple formats, it would require standardisation and the latest technologies, while also involving significant collaboration between government and industry.
An AI system that is trained to recognize certain patterns – be it behaviour, body temperature, mask detection or other indicators – would be able to sift through millions of bytes of data very quickly, and immediately identify and highlight potential threats based on set parameters, and this can naturally be health or safety related. It can be set to return analysis on an immediate basis, or to run a longer-term analysis over a set period.
The output of this analysis can be set to trigger certain actions – for instance, in the current situation, a higher-than-average body temperature among a greater number of people in a building or locality could trigger professional healthcare intervention, or as simple as one person travelling in from a known viral epicentre could lead to personal quarantining and follow-up.
The need of such AI-based technologies, combined with required data infrastructure, have become crucial for national security and public safety agencies. This will not only support the acceleration of new solutions on the market from global high-tech digital leaders and innovative start-ups, but will also significantly disrupt the traditional national security industry.
Actioning Intelligence
This could be in steps as drastic as shutting down a nation, or declaring a virus-free zone – neither of these decisions are arrived at through guesswork, and is the result of strategic analysis of large swathes of quality data. Recent events have shown that incident response is no longer just one department or Ministry's concern alone, but requires a concerted effort from the authorities, public and private organisations, as well as individuals. A response strategy, without the buy-in of all stakeholders and the implementation machinery, will not achieve the result it set out to. This has long been evident in the integrated security apparatus in many nations regionally, and showcases the advanced thinking that goes into creating safe and secure nations.
Taking this thought further, the nature of the pandemic has shown that incident response is no longer the worry or responsibility of one locality, city, or nation alone. A global response requires a globally-concerted effort – and we all have seen the divergence in how various authorities have joined the global campaign, or resolutely acted against the common good. This illustrates the scale of collaboration that needs to be fostered if one is to effectively action intelligence, and a response strategy needs to also be accompanied by structured and interactive communications channels.
Col. Mubarak Said Al Khyeli, Director General of the GCCPOL, said: "In order for the GCCPOL to achieve strategic goals despite the current challenges associated with the coronavirus, GCCPOL has used new and secured communication platforms as well as leveraged advanced data treatment capabilities to ensure business continuity with our partners and stakeholders. The GCCPOL also participates in meetings of international organizations and national police agencies around the world in order to exchange experiences and practices to overcome the security challenges associated with the coronavirus and prepare for the new future after COVID-19."
The key takeaway from all of this is – Collaborate, collaborate, and collaborate some more! Whether you are a government organisation, a multinational company, a start-up with a great idea, or a switched-on citizen, the responsibility for health, safety, and security rests with us all. At various times, experts will take the driver's seat to navigate one particular section that calls for their expertise, but at the end of the day, we are all in this together.
"At ISNR Abu Dhabi, our driving ethos is that we are bringing great minds, great experiences, and great perspectives together, for the greater partnerships", said Meline EOLMEZIAN-SOULIE, National & Cyber Security Events Portfolio Director at Reed Exhibitions Middle East. "In current special circumstances such as the COVID-19 crisis, our tagline of 'National Security and Resilience is Everyone's Responsibility' is much more relevant, and we see our role as creating the vehicle for the community's best to collaborate and drive towards progress – in health, safety, and security."
Whether preparing for an exit from the current regime of guidelines, or creating an always-on system that can be set to track, review, and alert on various parameters, the three-stage approach leveraging AI and unmanned technologies is necessary. These technologies have the potential to save lives, and not only accelerate the process of returning to normal, but build a technology-powered, city- and nation-wide infrastructure to continue to protect. Given our shared experience in 2020, there is no doubt that prevention is better than cure.